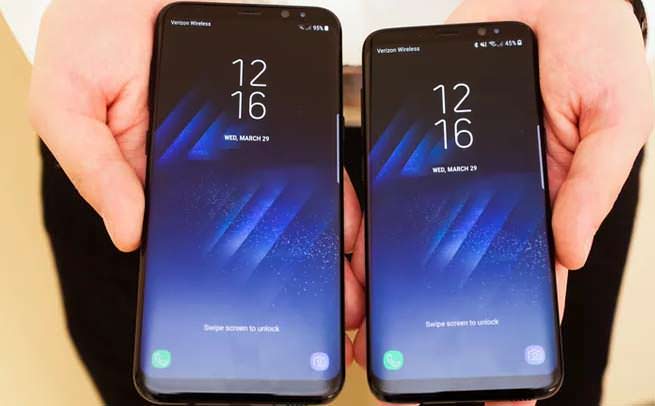 After the Galaxy Note 7 disaster, Samsung is ready to reclaim its rightful place on the best smartphones list for the year 2017. Brace your seat-belts, this is Galaxy S8 review, a powerful phone awarded the best display of the year by DisplayMate.
Samsung Galaxy S8 review: Bold Specs
8-inch quad-HD Infinity Display (AMOLED)

Samsung Exynos 8895 (Europe and Asia) or Qualcomm Snapdragon (USA)

4GB RAM, 64GB storage (microSD up to 256GB)

3000mAh battery with wireless and fast charging

Rear camera: 12 megapixels, f/1.7

aperture

, and dual-pixel sensor

Front camera: 8 megapixels, f/1.7,

and

autofocus

Iris and fingerprint scanner

Samsung Bixby personal assistant

Android 7 Nougat with Google Assistant 
Galaxy S8 Review: Design
Samsung Galaxy S8 design is a master stroke because the Infinity display that nearly hides the top and bottom bezels. It's essentially all-screen smartphone just like LG G6 but unlike the G6 the display merges into the sturdy metal rim.
In 2017, the 'Edge' versions will not be released because of the sloping panel.
Both sides curve down so the edges feel slim and it makes the phone very comfortable and satisfying to hold. The edges are subtler and the reflection problem persists on the slopes but you can compromise it for the stunning look. At the same time, the shrinking the top-bottom bezels was met at the cost of home button trade-off. Instead, the fingerprint sensor has shifted to back side aligned with the camera hardware and the Home Button is now a touch-system at the bottom.
Colors
The latest S8 is available in three colors and dropped the white front plates that rendered it awkwardness.
Dark Black

Bright silver

Bluish-Gray
Weighing just 155g, and given that the battery size is same, it's incredibly lightweight. The IP68 water and dust-resistant display can survive 30-min submersion inside water sitting at 1.5-meter depth.
Also Check Out: Nintendo Switch Games: The Best New Game Titles 2017
Speaking of Samsung Galaxy S8 HDR, a new aspect ratio of 18.5:9 replaces the older 16:9, which is very standard in most of the high-end smartphones. This resulted in taller, more spacious screensize (5.8-inch) in a body the size of last year's (5.1-inch) version.
AMOLED screen bears a resolution of 2960×1440, which is also new and given that the latest Galaxy S8 is 'Mobile HDR Premium' certified, the contrast and brightness are unmatched. It also means streaming HDR content from Amazon Prime and Netflix won't be a problem.
Galaxy S8 Review: Camera
No dual-sensor system, wide-angle lens or variable aperture, but you do get a 12-MP camera behind a wide f/1.7 lens. If that's too technical, just know it is just as good as the S7 camera because Galaxy S8 camera is essentially the same with negligible upgrades in the main camera. Still, it is the one of the best in the market.
Upgrades in the main camera include a new multi-frame image processor. Here is how it works: when you hit the camera button, the smartphone takes 3-snapshots with minute time differences and combines them to produce a single, less blurry and sharper photo.
The front camera has been upgraded to 8-megapixel with a f/1.7 aperture with autofocus so compared to older model, you get better selfies with the new one. There's an accessory front camera as well to do the iris scanning and the company claims it's improved and accurate than the one that was on Note 7.
Samsung Galaxy S8 review: Fire Power
Strangely, Samsung is introducing two different chipsets in Galaxy S8 based consumer market. European and Asian markets are going to get Samsung's own Exynos 8895 but the USA fans will receive Qualcomm Snapdragon 835. What you must know that performance of both is equally best and their efficient usage of power also enhances battery life. Sadly, the 4-GB RAM will not be upgraded to 6-GB like most other high-end smartphones this year. It is enough to handle the 64GB of internal storage, extensible to 256GB microSD cards.
Also Check Out: Top 8 Fitness Trackers For Kids
Desktop Docking: Samsung DeX
DeX is the Samsung's version of Microsoft continuum but with enhanced features. Basically, it's the desktop experience (docking system) for the Galaxy S8. The dock connects to an HDMI-equipped monitor, turning your Galaxy S8 to a mini PC.
The dock is powered, featuring 2 USB-A ports, an Ethernet connector, and a fan cooling system at the base to keep the S8 from overheating. An easy plug & play system makes it super cool to connect and use its features on the desktop instantly. Just place your Samsung Galaxy S8 on the dock, unlock the phone and that's it, you are in!
The entire screen of your smartphone appears on the monitor with a Windows-like UI arrangement. From there on you can drag and drop emails, edit presentation and other office documents or do other tasks that really need the speed of external mouse and keyboard.
DeX is way better than Continuum or old Symbian version of the desktop application because on the monitor it looks like a fully loaded Windows or Mac with resizable apps, elegant icons, and monitor-friendly apps like Lightroom, Google Photos, and Facebook. Microsoft Office apps also come packed in it.
Samsung Galaxy S8 review: Software Upgrades
You can get the best of Android 7.0 Nougat on the new Galaxy S8 and expectedly the smartphone would upgrade to Android O as soon as it is released. The current software has improved icons and stylish on-screen buttons with a new angular and edgy looks.
New theme packs stark white coloring and all of Samsung's native apps are fine-tuned to match it. You will be able to enjoy Google Assistant but will it get Daydream support is still unclear because Samsung has its own Gear VR to promote and adding support for Google's VR headset would mean lazy business.
Bixby has to be the biggest software enhancement, which is weird too because it has to exist side by side with Google Assistant. The function of both is essentially the same: rival iPhone Siri!
Samsung's version of the digital assistant can be easily accessed with a dedicated button, which clues that the tech giant is serious about introducing its own digital assistant. Bixby will help you find scan everyday items and search their prices from the internet.
Also Check Out: Choosing The Best Tablet For Kids
How does Bixby look like? It is somewhat a manipulated form of Google Now with same hovering slots of news and other items. You must know that Bixby will initially support Korean and US English, British English, and other languages will arrive later in 2017.
Samsung Connect is another new app that adds to the flagship phone's software upgrades. The Connect app rivals Apple's Home and links you to Smart Devices. By doing so you will be able to control your all the smart home devices via your S8 smartphone.
Frequently Asked Questions about Samsung Galaxy S8
Why wasn't the battery upgraded?
The S8 battery remains 3000mAh like the previous model but there's a catch. The new chips better manage power and though the screen sizes have been enlarged, Samsung claims it won't affect the battery mileage.
Will the S8 battery explode like the issue Galaxy Note 7 envisaged?
The battery is probably going to be the master area of Galaxy S8 that the tech company is most concerned about. This time, the issue is being considered very critically and the company is assuring the buyers all over the world with the demonstrations, which is going to be an intensive part of its marketing campaign to mitigate the smears left by the Note 7. And if you are wondering, the battery explosion problem has nothing to do with the wireless charging feature which is available in the latest S-series phone.
Is 3000mAh battery enough to support the HDR-ready display?
That's really an important question and we are all relying on the performance of the phone when it is finally released. But the smartphone maker looks very confident. The charging speed has been slightly improved if it makes it any battery.
Galaxy S8 Price And Release Date
The all new Samsung Galaxy S8 will be available for purchase around the globe on April 28. Both the smaller ($750, 5.8-inch) and larger ($850, 6.2-inch) models can be preordered from the company's website and various other online outlets.
Samsung Galaxy S8 review: Summary
The all new Galaxy S8 smartphone is the fountainhead of company's S-series phones. It's satisfying to operate, easy to manage, gorgeous to look at and all out stylish. It is expected to face off rivals like iPhone 7, Huawei P10, and Sony Xperia XZ Premium.
But considering its specifications and beauty, iPhone 7 and Google Pixel are closest adversaries in terms of display, firepower, and camera quality. Since Google hasn't announced any upcoming Pixel phone, if Apple chooses to reinvent iPhone with an eighth itineration, that might break the potential of the S8 to some degree.  That's all for Samsung Galaxy S8 review, come back for the latest technology reviews and keep rocking!