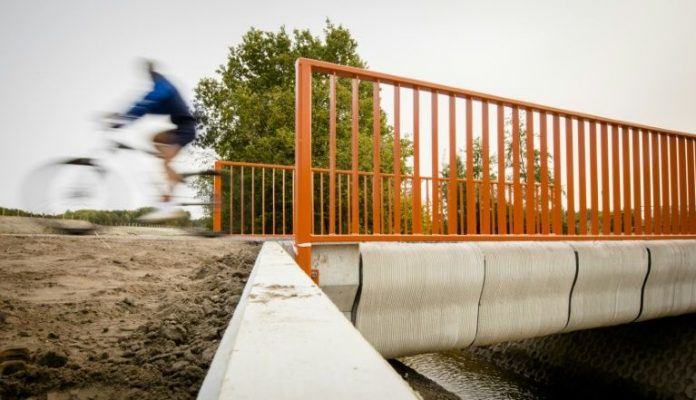 On Tuesday, a historic moment unfolded in the Netherlands as Dutch officials announced the opening of a 3D-printed bridge for cyclists. The first of its kind in the world, the bridge was constructed in the southeastern town of Gemert, mainly for bikers' use.
Officials in the Netherlands happily unveiled on Tuesday the world's first 3D-printed bridge for two-wheeled commuters. The bridge, built across a water-filled ditch in the town of Gemert, spans eight meters and is able to support a capacity of approximately two tons, equal to the weight of 40 trucks.
Other 3D-printed bridges already exist elsewhere such as in Alcobendas in Spain and in Shanghai in China, but these are general pedestrian bridges. The title held by the Dutch is having a 3D-printed bridge for the sole use of cyclists.
The Technical University of Eindhoven and the construction firm BAM Infra collaborated to build the much-celebrated bridge within three months. The technology employed in this construction is eco-friendly, which makes it more special than traditional bridges even though it may not seem extraordinary to uninformed observers.
Marinus Schimmel, the top official of BAM, proudly claimed that their company is following a very futuristic approach that aims to make infrastructure construction smarter and more sustainable. He also explained that with 3D printing, less concrete needs to be mixed, reducing carbon footprint.
From the cost perspective, this is also beneficial to construction companies because the printer only pours concretes in areas where it is needed, avoiding waste in materials. It also leads to speedier construction; the fastest record is held by Shanghai's Tongji University. In 360 hours, their School of Architecture and Urban Planning built not one but two 3D-printed bridges, measuring four meters and 11 meters, respectively.
This technology seems to be gaining traction as a promising game changer in the field of construction and infrastructure. In fact, a company called MX3D, also in the Netherlands, is already working on designing and building the first 3D-printed steel bridge, to be opened sometime in 2018.
To give background, commuting on bicycles is very common in the Netherlands because of its very flat geographical feature. As an illustration, 18 million bikes are actually in use in the country of 17 million people – which means more than 1 bike per person. It is not surprising that a project like this, specifically targeting the needs of two-wheeled commuters, is being given this much spotlight and priority.
The bridge saw its first wave of riders during the opening week. Officials are expecting the number of riders to grow into a healthy traffic involving hundreds of cyclists a day to utilize the bridge from now on.