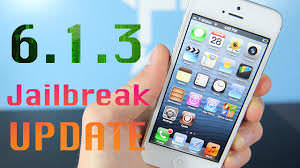 Jail breaking iPhone 4 6.1.3 might be troublesome for few of you, but after reading and applying these simple steps jail breaking will be a walk in the park for you. Let us get started now.
Step 1 – Before we start let me tell what all you need for jail breaking iPhone 4 6.1.3
A iPhone 4.
A USB cable for your PC.
iOS 6.1.3  for your device.
The latest version of Snowbreeze.
Step 2 – Download the newest version of Snowbreeze, which is v2.9.14. To get snowfreeze click here.
Step 3 – Launch Snowbreeze, click on the arrow (  –>  ) of blue color on the bottom right hand-side of the display.
Step 4 –  Click on your Browser for an IPSW and choose the file you downloaded in step 3.
Step 5 – Now once your firmware has been verified, choose next arrow again then from the next screen àselect Simple Mode.
Step 6 – Now Snowbreeze will ask you if you want to activate your iPhone . Select *Yes* to unlock your iPhone Or Select *No* if you have an unlocked iPhone device from factory.
Step 7 – Later  Snowbreeze will start building the custom iOS firmware file, this building operation will take  few minutes of yours.
Step 8 – When you are done with building the custom iOS firmware file , the new custom firmware will be placed on your PC or Laptop desktop.
Step 9 – Then Snowbreeze will ask you to enter Pwned DFU mode. You can follow the steps on your screen on how to move further.
Step 10 – After you are in Pwned DFU mode, go to iTunes and remember to keep your device plugged into your PC.
( After this you can give some rest to your eyes by blinking them and looking to the picture on the  wall of your room. This short exercise is good for your eyes. )
Step 11 – Now look on you're the screen you will notice iTunes is detecting your device in recovery mode. After hold down the  SHIFT  key from the left side and click on Restore. Click on the custom firmware file from your desktop made in step – 7 and 8.
Step 12 – Let your iPhone restore, this process will take few minutes of your time, so please don't be impaitent .
Step 13 – Once this process is complete, iPhonw will boot with the Cydia installed.
This is a tethered jailbreak, so as a part of the entire process, Snowbreeze will create a new folder for iBooty on your desktop. So in order to boot your device into the jailbroken state with Cydia, follow these steps:
A)     Launch iBooty by double-clicking the iBooty icon on your desktop.
B)      Select the iPhone from the drop-down menu, click on the Start button and follow the steps on the screen on how to put device in DFU mode.
C)      Once iBooty is finished, your iPhone will boot up and now you're all set to install everything you want from Cydia.
We hope the provided solution works well for you. Keep visiting us for further update on jailbreaking iPhone 4 6.1.3.
Thanks and Cheers