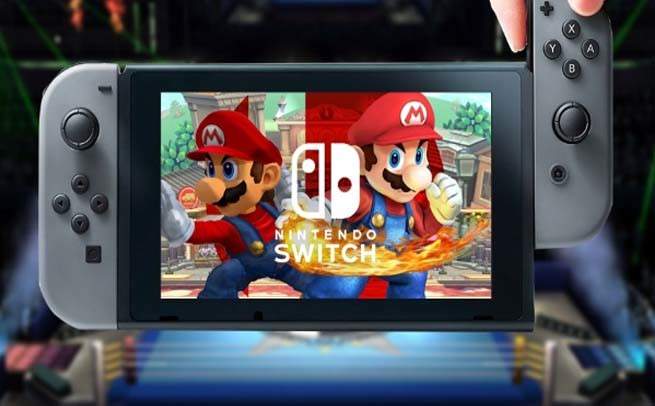 Nintendo Switch games are hot in the market. As the gaming console has already sold over a million units, game enthusiasts are head over heels to play the best new and upcoming releases. Just when it seemed that iPhone and android games were going to completely replace handheld consoles, the Switch has already switched the scenario.
So today we give you the best and new upcoming Nintendo Switch games. This amazing handheld gaming console is an engaging masterpiece and very easy to use. Not to mention you can also use it on your TV whenever you are home, so it's a bit mix of console and handhelds… I call it a smart console. Pretty.
So without any further delay, here are the best new and upcoming games for Nintendo Switch
Best New Nintendo Switch Games 2017
These N-Switch games are already available on the market.
1. The Legend of Zelda: Breath of the Wild
This game was the preview face of Nintendo Switch, and why would it not be. The Legend of Zelda: Breath of the Wild looks ridiculously amazing on the Handheld gaming device. You can't expect the same graphical appeal but still, it is better than playing on a tablet or a smartphone. The characters, action, animation, shrines and the environment look good enough to me.
Breath of the Wild in terms of the Switch bears great game design and serves as best on-the-go open world game that has ever been released. The game already has commendable ratings all over the blogosphere and tech journalists are recommending it as one of the best games of the year. The core idea of the story are different from the original series, nonetheless, everybody loves it.
2. Voes
Now this one comes from an existing smartphone game but it is every bit of must-have rhythm game. For a touch-screen game, it may not feel appealing to you at first because you can do that on tabs too, right? Wait till you switch-it-up to your TV screen.
Also Check Out: Here Are The New Google Daydream VR Games
No lies here, the game is quite costly but the musical game is worth your money. Voes Offers 100+ songs from all the artists you love and you gain experience as you level up. Additionally, you can personalize your profile and compete with your friends. The only setback has got to be its playability being limited to portable mode because you have to use the touchscreen only.
3. Shovel Knight
After a long crowdfunding campaign on KickStarter, Shovel Knight by Yacht Club Games is now available on nearly all the gaming platforms and the Nintendo Switch version just rolled out. Like Super Mario, Shovel Knight is a 2D side-scrolling platform game bundled with exciting challenges and awesome graphics.
Whether you play it at home or one the go the engagement is guaranteed. You are going to be spending a lot of time on the gameplay and you speed relies on your practice and creativity.
4. SnipperClips
Here's something exclusive of Nintendo Switch games because it is published by the company. SnipperClips by SFB Games is March 2017's gift for the brainiacs who love to solve creative puzzles. I love the fact it is actually a multiplayer gaming experience, which considering the portability of the Switch makes more sense.
All the puzzles are articulated keeping gamers in mind and the game design has been fine-tuned to the dimensions of the handheld gaming console. Whether you are traveling on the bus or in the café, beautiful game objects and facial extortions in the game will keep you accompanied and kill the distance for you.
5. Fast RMX
Get ready for some racing! Fast RMX is the best racing video game available on the Nintendo Switch. Developed by Shin'en Multimedia, it is also an exclusive title for the N-Switch. There are no race cars involved but how about Jet Engines? You love it, alright!
Rotating screen, smooth racing experience, fantastic visual effects and 3D game design, interesting challenges, and overall just splendid. Of all the Nintendo Switch games, Fast RMX is closest to the multiplayer frenzy it can get. Engage your friends anytime and don't worry about the frame rate, it rocks wholesome 1080 pixels at the rate of 60-fps.
6. I am Setsuna
Let's close the deal of available Nintendo Switch games with the turned-based battle game and from what we are learning, I am Setsuna already very popular among the fantasy lovers. Developed by Tokyo RPG Factory and Published by Square Enix, it offers some indie elements with the mix of enterprise enhancements.
The developers may not be well-known but we all look up to Square Enix right? Because that's the name that really sells. I am Setsuna is modern turn-based fight game with beautifully designed with ugly monsters (just the way you like it) and very mythical surroundings.
Also Check Out: How To Play Oculus Rift Games On HTC Vive?
The game was first debuted on PlayStation where it hauled great popularity among the game enthusiasts. If you have played it already, hopefully, the handheld version will not disappoint you either.
Top Upcoming games for Nintendo Switch
So that's all the selection from available Nintendo Switch Games and more are on the way and most of the titles you can just preorder and relax so you will be the first one to get them when they finally arrive. Introducing Upcoming N-Switch games!
1. The Elder Scrolls Vs. Skyrim Special Edition
Just when you thought no Nintendo Switch game would ever beat Legend of Zelda, The Elder Scrolls Vs. Skyrim Special Edition is in the news. Yes, it's happening guys.
The Elder Scrolls never seems to lose its charm despite the fact that it has gotten pretty old (6 years) and game enthusiasts still want to see the RPG in action on the handhelds. Keep in mind, the graphics will be toned down to match the hardware capabilities just like LoZ.
There is no news on whether mods will be featured or when exactly it is going to be release but you can pre-order it £59.99.
2. Mario Cart 8 Deluxe
Mario Cart 8 Deluxe is totally going to beat Fast RMX, but's let's not create a competition because RMX is more like a space fantasy and Mario Cart is just here to please our childish memories. The N-Switch version will have admirable graphics fidelity with new karts, new tracks, and a new Battle mode.
Reportedly, the new Battle mode is going to be more challenging with Balloon Battle, Bob-omb Blast and a variety of other minor enhancements to give a game a unique feel. Mario Kart 8 Deluxe includes all the DLC from the original Wii U version plus new Splatoon racers. Pre-order Mario Deluxe for the N-Switch today.
3. FIFA 18
After racing and random stuff, it's time for some FIFA 18 action. We all love sports and Nintendo Switch games aren't running low on the upcoming games' inventory. Just like other games, the graphics will not be breathtaking and more focus will be put on the performance of the device.
It is reported that the handheld platform version of FIFA 18 will be a PS3/Xbox 360 spin out but since those importable consoles are very powerful, the downgrading of visuals might take its toll on some of your favorite features.
Electronic Arts vows to keep as much of the entertainment and engagement intact as possible and players are definitely going to love it. FIFA 18 is expected to be released in September 2017 and you can pre-order it here.
4. Arms
Arms are also one of the most awaited Nintendo Switch game titles of the year. The second-person offers moderate graphics but a lot of action, glitters, and fun. The exclusive title will use gaming device's motion controls for the gameplay.
Motion controls only mean more freedom and more engaging gameplay with friends. Using the controls just like swinging something in virtual reality headsets, the arms protrude outwards and it almost feels like doing Spiderman's web slaps.
Again, no release date has been set but you can preorder it and ensure you will be the first one to get it.
5. Yoka-Laylee
Yoka-Laylee by Playtonic games is coming home on April 11. So for all the games, you will be waiting for, this is going to be the most accessible one. Don't miss it for the world. It was actually designed for the Wii U platform but the then came the Switch!
Also Check Out: Top 5 Upcoming Games For HTC Vive
Playtonic games has rolled out titles like Banjo-Kazooie (for PlayStation) so they are well-acclaimed for 3D games as such. If you have played Plants vs. Zombies 3D, this is nothing like it, but you will notice some resemblance in the graphics and characterization. So it's really colorful, enjoyable and with worlds to explore. Be ready to grab it this April on Nintendo eShop.
Latest Nintendo Switch Games: Summary
Enjoy all the available Nintendo Switch games and don't forget to preorder new ones in time. And if you are still thinking about buying the device, get one already.