In 2017, new desktop PC has revolutionized home computing. Laptops for quite a long time had been beating up personal computers because of their outdated design and massiveness. Hardware tech giants like Microsoft, Dell, HP had to rethink the design, attractiveness, and usability of desktop computers. 
The new desktop PC now looks like Surface Studio that rolled out last year and introduced a radical change in home computing. 
New Desktop PC Is a Headturner
Although, the credit goes to Microsoft Surface Studio, but other PC makers were quick to familiarize themselves with the concept. The new Desktop PC by Dell came out in 2017 dressed in the ideals of sophistication and clarity.
Also Check Out: Microsoft Surface Dial Review: Computer Accessories Reborn
Top Personal Computers are not Cheap
That's true. Whether you are a gamer or a digital artist, you are going to pay a lot of money to pay for the specifications you want. So why not invest in new types of personal computers that have both the firepower and the looks. You don't have to stick with towering up logs of plastic and metal that just sit there and occupy a great amount of space.
New Desktop PC Design Trends in 2017
The new generation desktop computers are stunning to look at and change your perception about personal computing. Talk about the ultra-wide display, multi-speaker sound system, curved screens but don't ever imagine the monitor the way you used to. Hardware is mostly impregnated behind the screen or inside the stands.
Top New Desktop PCs 2017
Here are top personal computers for 2017. The list is short: partially because this is just the start of the year and partially because I have only focused on the traits of new desktop PC, not including the old towering monsters. I know we are not fashion, but looks definitely count even in the technology.
The HP Envy Curved 34 all-in-one is also a top choice among the new desktop PCs of 2017. As you will see, curved is the word it is advertised with and that's a great selling point for displays these days compared to the flat screens. The 34-inch curved display is crammed into its name to signify the huge size of its floating monitor.
Choosing HP Envy Curved 34 against Dell's new desktop PC will get you extra inches in the size but not without compromising the 4k display so it's really up to you how you balance it up. It would have been really wonderful if it was a touchscreen we don't complain because it is very soulful to look at and use. Best for games and videos, because curved screens bring out the best of immersive experiences when you are sitting in the sweet spot. This ruins it for multiple viewers because only one gets to be in the center.
HP Envy 34 price is $2000 when you customize it to the specs in the picture above. The Base also has 4 speakers and a touch control for the playback and the volume. You will find loads of ports on the backside of the base but hopeful you will not ruin your personal space by plugging in too many wires that shouldn't be there.
The base also sports a spot where you can wirelessly charge your smartphone. The webcam is parked right on the top embedded into a push panel that rises up only when you need it so no need to tap it to protect yourself from hackers.
HP Curved 34: Recommended Specs
34-inch, 3440 x 1440 pixel curved display

Intel Core i5 processor

8GB RAM (16GB, as tested)

1TB HDD (256GB SSD + 1TB HDD)

AMD Radeon RX 460 graphics card

Four USB 3.0 type-A ports

USB Type-C with Thunderbolt 3

HDMI in and out

Full-size SD card reader

Qi wireless charging for smartphone

$1,749
This is new Dell XPS 27 all-in-one desktop PC. Say hello to ultra-sharp 4k vibrant display that also covers 100% Adobe RGB color space, which is a very important feature for designers because they play a lot with colors. In many ways, Dell XPS 27 is like an iMac; for example, the hardware components are fitted behind the display. Below the screen is a 10-speaker sound bar driven by powerful amplifiers, but I must argue their liveliness compared to your home theater system.
Basic model starts from $1500 but you still get 4k display, 10-speaker sound system, and most of the specs you need for routine computing tasks. The specs shown in the above picture will cost you $2800 and those are what you can say a story at every home because the average computer user is neither a 3D designer nor a hardcore gaming enthusiast.
DELL XPS 27: Recommended Specs
27-inch, 3840 x 2160 pixel touch display

Sixth-generation Intel Core i7 processor

8GB RAM

1TB HDD

Intel HD 530 graphics 

5 USB 3.0 Type-A ports

2 USB Type-C ports with Thunderbolt 3

HDMI out

DisplayPort

Full-size SD card reader

$1,499
New Desktop PC Owes to 2016's Honorable Mentions
I am putting Microsoft Surface Studio and iMac here as honorable mentions because they arrived here before 2017. So being 2016's extensions, they may not belong to this year's release, however, they continue to sell and impress more. We will not be delving too deep into their specifications, but if you must insist, I have provided the basic specs alongside the prices to curb your curiosity.
Also Check Out: The Best Tablets For Drawing- Let Out Your Inner Artist
The Surface Studio stands out with Microsoft Surface dial, a feature that has revolutionized the idea of desktop accessories. Aside from the surface dial, the Dial, the Surface Studio is an all-in-one recipe for digital designers and artists who need a touchscreen display and surf great time writing and require a friendly scratchboard to multitask on. It packs loads of mind-boggling specifications.
Highlights
The 28-inch display is highly table-manageable, ideal for prototype and quickly drafting designs. Surface Dial stands out among the top features but you also get the touchscreen display with Surface Pen, keyboard, and mouse; all of which do their job well. Power cord comes with grip release cable.
Microsoft Surface Studio Pricing range
1TB storage with Intel Core i5, 8GB RAM and 2GB GPU memory: US$2999 (AU$3918)

1TB storage with Intel Core i7, 16GB RAM and 2GB GPU memory: US$3499 (AU$4572)

2TB storage with Intel Core i7, 32GB RAM and 4GB GPU memory: US$4199 (AU$5486)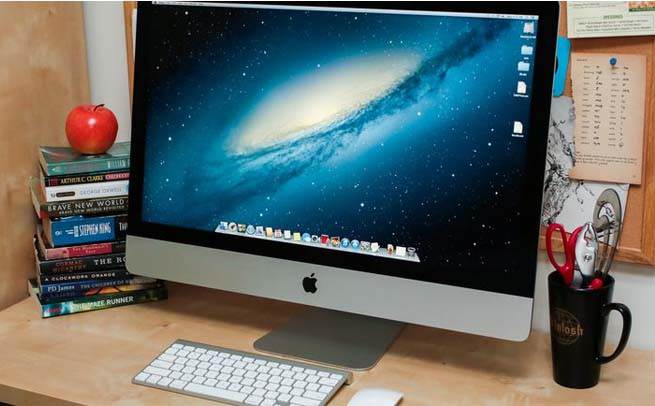 Apple iMac is the only contender here with a 5k display. There are two varieties: a smaller 21.5-inch screen and a larger 21-inch flat screen monitor. The operating system is powered by macOS Sierra which is also an exclusive offer because all the other personal computers come packed with Windows 10. For Apple fans, iMac is a great option but it is not as cheap (even proportionally) as your iPhones are.
Highlights
Kensington lock slot security is included among the iMac perks while you also get Magic keyboard, Apple Magic mouse, and lightning to USB cable. Here I would like to mention that keyboard and mouse with other new desktop PC options (other than MST) do not really play up to their quality and you might eventually replace them with better ones.
Apple iMac Retina 5k Pricing range
1TB hard drive storage with Intel Core i5, 8GB RAM and 2GB GPU memory: $2799

1TB Fusion Drive storage with Intel Core i5, 8GB RAM and 2GB GPU memory: $3099

2TB Fusion Drive storage with Intel Core i5, 8GB RAM and 2GB GPU memory: $3599
Also Check Out: Dell Rolls Out 70-Inch HD Touchscreen For Offices
New Desktop PC 2017: Conclusion
All of the new desktop computers are great for home computing tasks and entertainment. They look great, boot fast, stay responsive, and possess mighty processing cores. As far as multitasking is concerned, you are safe with any of these but if you are an intensive digital artist, Microsoft Surface Studio is a clear choice for you because it is speedy and very tactile. Even for gaming. For occasional gamers, I'd recommend HP Envy 34 while people who are just tired of the old tower and want a bit from 2017's new desktop PC, buy Dell XPS 27!